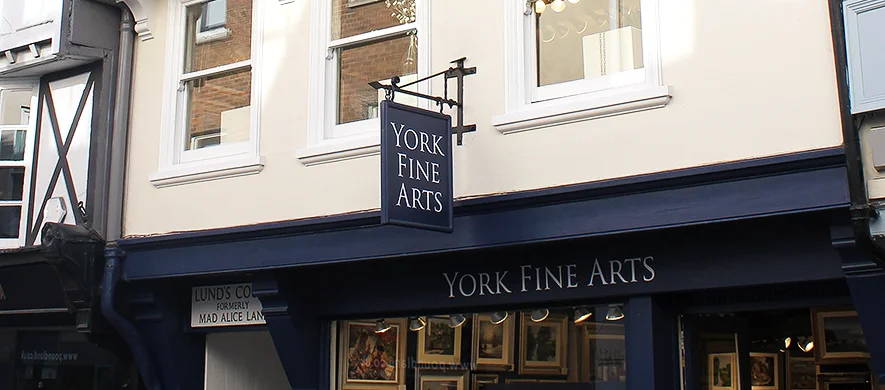 York Fine Arts
York Fine Arts has been a family run, established art gallery for over forty years. Over the decades we have gained an international reputation for sourcing high quality traditional and contemporary fine art from some of the very best artists practising today.

We place value on the traditional, and therefore ensure that each piece we acquire resonates with the traditional craftsmanship of the arts. Perhaps through style or technique, even our contemporary pieces demonstrate a commitment to the time-honoured heritage of traditional fine art.

Our carefully selected collection of artwork is tailored for a diverse range of styles and tastes. We specialise in a variety of work by established British and international artists, ranging from original oil paintings and watercolours to bronze sculptures and signed limited edition prints. We also offer a number of services, including framing, valuations, restoration and art sourcing.

At York Fine Arts, we remain welcoming and approachable. Our clients return to us year after year, confident in not only the high calibre of our artwork, but furthermore in the high standard of personalised service they are guaranteed to receive in our care.
83 Low Petergate, York
The gallery is housed in a timber-framed, Grade II listed building that forms one of a group of seven gabled houses on Low Petergate. Its jettied upper floors and steeply pitched roof make it a prime example of the Tudor style of architecture that can be found on many streets of York.
The building itself has a rich and varied heritage dating back to the 1600s. It was initially built as a private dwelling, and remained as such until the 1800s when it became an outlet for trade. As the building changed hands, it facilitated the trade of a range of goods, including flour, grain, fruit and furnishings, and even served as a butcher's shop in its later years. At the turn of the millennium in 2001, No. 83 became the home of York Fine Arts, where it now facilitates the trade of quality fine art.

As you can see from the photographs above, over the years there has been little change to the external fabric of the building and to Low Petergate itself. 'Petergate' is named for The Cathedral and Metropolitical Cathedral of St Peter in York, more commonly known as York Minster, which can be seen at the end of the street.