Information for our American Clients.
There is something to be said for the British way of life. Things are a little bit slower, a little bit quainter and somehow filled with just a bit more charm and tradition. There is a tangible element of heritage, a visible line of history that pulses through British daily life and culture, connecting past and present in a completely singular way. With such a rich and unique culture, it comes as no surprise that the story of British history and the features of its culture organically overflow into British fine art.
British landscape paintings also often have a strong pastoral element, reflecting the country's rich agricultural heritage
This is particularly noticeable in the genre of British landscapes. With an artistic heritage that includes the likes of Constable, Tuner and Gainsborough, it's easy to see why the genre is so beloved by British artists. As so much of the country's landscape is made up of green spaces, British landscape paintings also often have a strong pastoral element, reflecting the country's rich agricultural heritage. But be it the verdant, patchwork fields traversed by dry stone walls or the rugged, majestic landscape of the Scottish Highlands, British artists have a plethora of scenery at their fingertips from which to take inspiration.
On the opposite end of the spectrum, the bustling, energetic backdrops of Britain's towns and cities are equally as appealing to many British artists in search of inspiration. Often a quirky mix of architecture ranging from 16th century Tudor to more modern 21st century builds, the UK's cities are a tangible reminder of the connection between past and present. Cities such as London, Manchester, Edinburgh, and of course, York, are positively brimming with hundreds, if not thousands of years of history, but still harbour the same sense of edgy modernity one might expect from a contemporary hub. This unique blend of old and new organically lends itself to fine art that balances both traditional and contemporary.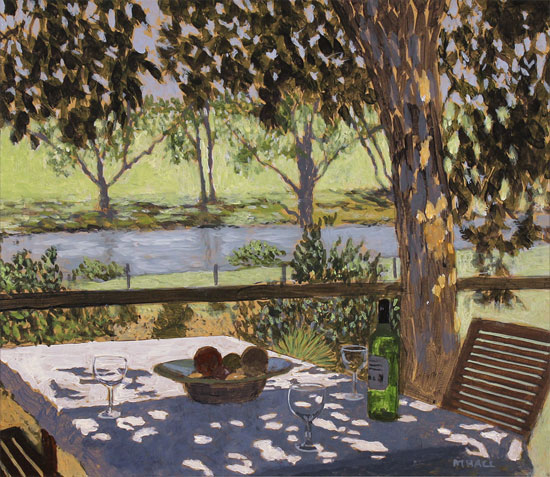 Mike Hall, Glass of Wine by the River. Original acrylic painting on board.
British still life paintings too also bear the mark of British history and culture. When it comes to British still life, the country's proximity and long-established ties to continental Europe have inarguably influenced how the genre has taken shape on home soil. Often taking inspiration from the Dutch masters, many British still life artists apply a traditional technique or composition but with an added contemporary spin, be it a modern-day setting or the choice of a local, classically British, gin and tonic. The choice of subject can also be quite telling and serves as yet another medium in which to see the reflection of British culture.
As an island nation, the sea plays a leading role in the British tradition, with many marine paintings often paying tribute to Britain's deep-rooted naval and maritime heritage. Though the days of imperialism have long since passed, there remains a strong sense of pride in Britain's naval history and prowess. As such, it is not uncommon for British marine artists to choose famous ships such as the HMS Victory or HMS Belfast, or legendary battles such as the Battle of Trafalgar, as their subjects. Fisherman, fishing boats and coastal fishing communities such as Staithes or Polperro also widely feature. And for a sense of adventure? Classic galleons and smuggling scenes that revive the intrepid tales of British maritime history make the perfect choice of subject.
When it comes to wildlife art, it is unsurprising that many British artists choose to focus on British wildlife, gleaning inspiration from local birds, animals and wildlife. From the elusive, yet magnificent red squirrels, foxes and stags to classic British birds such as the blue tit, pheasant or much-loved robin, there is a plethora of British wildlife from which to choose a subject. For some British artists, this can often even include pastoral creatures such as horses, cattle and sheep, while others prefer to look further afield to the commonwealth, capturing the exotic splendour of African wildlife for all to enjoy.
But no matter what subject or setting a British artist may choose, the fact remains that the finished work of fine art will be, in some way or another, a reflection of British culture. A subtle, but intimate look into the rich history, customs and values of a small but great nation submerged in heritage and tradition. So when buying British fine art, the international patron is able to bring a tangible piece of British culture into the home to be enjoyed, savoured and preserved for not just for themselves, but also for future generations.
Delivery
York Fine Arts is pleased to offer fully insured delivery to all fifty states, including Alaska and Hawaii, as well as U.S. Territories and Protectorates such as Guam and Puerto Rico.

Delivery is free on purchases over £1,250. For deliveries under this amount, shipping is calculated based on the size and weight of the artwork purchased. To receive a quote, simply add the artwork to your shopping basket and select your shipping region. For more information, please see our Delivery and Shipping page.
Payment
Artwork may be purchased online using Visa, Mastercard, American Express or Paypal through our online payment provider, Worldpay.
Direct international bank transfers are also accepted. Should you wish to pay by direct bank transfer, please contact the gallery for additional details.
Tax and Import Duty
All prices are inclusive of the UK's value added tax (VAT). However, please be aware that any local and/or federal import duties and taxes may apply upon receipt of delivery and are the responsibility of the recipient. For more information, please see the guidance published by U.S. Customs and Border Protection.
Exchange Rates
WorldPay processes all transactions in GBP. Foreign exchange rates are therefore dependent on and set by the cardholder's issuing bank, which may vary by issuer and time of transaction.