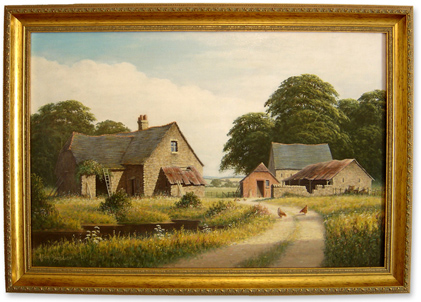 British Landscape Artist
Original oil paintings
(b.1939) Lancing, Sussex, England
Alan's childhood was spent on the south coast of England, where he started painting scenes of the sea, along with landscapes and portraits. After his school years he studied at Birmingham Art College before becoming a full-time artist. For the first twelve years of his career he concentrated on mainly portrait work; but has now focused on his landscape and seascape painting.
His enthusiasm for all that he saw at the time has been maintained during his long career as a professional artist. His present home, still close to the sea near the Lake District, has allowed him to become a master of detail, colour and lighting, reflecting the many changing moods to be observed in his seascapes.
His artistic skills are equally apparent in his many landscapes of Scotland, Wales, the Lake District and the West Country, where his scenes of seasonal variety with their host of colours are charmingly depicted against a rugged backdrop.
No artworks from Alan Dinsdale are currently available, please contact the gallery for future availability
A Selection of Sold Art Works
Please note that all Alan Dinsdale art listed in this section has previously been displayed for sale and is not currently available.
If you have purchased a listed artwork and would prefer the listing to be permanently removed, please contact us by email or telephone.
Alan Dinsdale | British Landscape Artist | All Art | Original oil paintings
© York Fine Arts 2018. All art work copyrighted to the original artist.
York Fine Arts, 83 Low Petergate, York, North Yorkshire, YO1 7HY, UK | Tel: 01904 634221