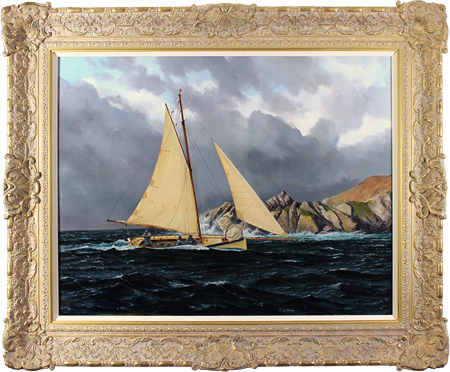 British Marine Artist
Original oil paintings
(b.1961) British
Andrew has for the last 25 years been working as a successful commercial artist since graduating from Kingston University in UK. For the last five years he has concentrated on Marine subjects following his life long passions for painting and sailing. He owns and has restored a vintage 1910 Gaff racing boat which he sails around his home waters in Cornwall, England.
Within the last two years he has had successful shows at Mystic Seaport Gallery in the USA and the RSMA in UK, and his reputation is building around the world. He was the official artist to the fateful Team Phillips challenge for The Race and will be working with the UK challenge for The Americas Cup.
His paintings can be found in private collections on both sides of the Atlantic and on the American super-yacht Excellence III. He mainly paints Yachting subjects and likes to include a 'human' element to the composition as well accurate portrayal of the boats. His knowledge of sailing in state-of-the-art racers as well as old boats enables him to understand the movement of the boats through the water and be accurate with the deck action.
The paintings are painstakingly put together using researched reference and his own drawings which are combined with posed models and sketches of skies and seas that he collects all the time. As important as detail is, an accurate portrayal of light on the sea in it's myriad of forms can only be achieved by constant observation, so if Andrew doesn't answer his phone you will probably be out sailing somewhere!
No artworks from Andrew Stranack Walton are currently available, please contact the gallery for future availability
A Selection of Sold Art Works
Please note that all Andrew Stranack Walton art listed in this section has previously been displayed for sale and is not currently available.
If you have purchased a listed artwork and would prefer the listing to be permanently removed, please contact us by email or telephone.
Home Page

›
Gallery Artists

›
Andrew Stranack Walton
Andrew Stranack Walton | British Marine Artist | All Art | Original oil paintings
© York Fine Arts 2018. All art work copyrighted to the original artist.
York Fine Arts, 83 Low Petergate, York, North Yorkshire, YO1 7HY, UK | Tel: 01904 634221