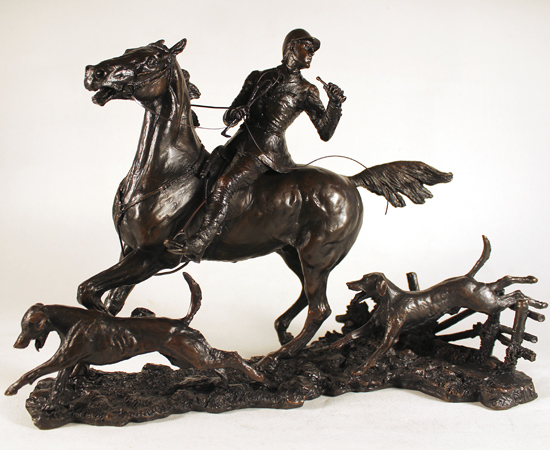 British Sculptor
Limited edition bronze sculptures
(b.TBC) TBC
David Geenty is widely regarded as one of Europe's leading horse sculptors and his work is collected and cherished by many. Born in England in 1945 and brought up in Southern Africa, David Geenty's earliest impressions were formed on his father's ranch in the Gonarhezho, a vast wilderness in the south-east region of present day Zimbabwe.
As an art student in Johannesburg, David Geenty was greatly influenced by Moses Kotler, a South African sculptor of world renown. David believes that it is to Kotler's tuition that he largely owes his great animalier talents and technique.
In his years as a sculptor, he has acquired a highly-regarded international reputation for both his wildlife and equine studies. He has worked with leaders of the giftware industry such as Albany Fine China, Heredities and Border Fine Arts, and his equine work can be seen in the acclaimed Kentucky Museum of Racing History in the US. His abiding passion for the creation of lifelike sculpture is evident in all of his work, making each piece a treasured collector's item.
Available Artworks
David Geenty

Bronze

Doubling the Horn
$ 1,935.12
¥ 13,410.72
€ 1,687.12
£ 1,485.00
David Geenty

Bronze

The Water Jump
$ 1,146.74
¥ 7,947.09
€ 999.77
£ 880.00
David Geenty

Bronze

Hunter
$ 1,146.74
¥ 7,947.09
€ 999.77
£ 880.00
A Selection of Sold Art Works
Please note that all David Geenty art listed in this section has previously been displayed for sale and is not currently available.
If you have purchased a listed artwork and would prefer the listing to be permanently removed, please contact us by email or telephone.
YORK FINE ARTS

is an established art gallery for over 44 years with an international reputation for sourcing high quality traditional and contemporary fine art.
Read more about the gallery ››
David Geenty | British Sculptor | All Art | Limited edition bronze sculptures
© York Fine Arts 2018. All art work copyrighted to the original artist.
York Fine Arts, 83 Low Petergate, York, North Yorkshire, YO1 7HY, UK | Tel: 01904 634221