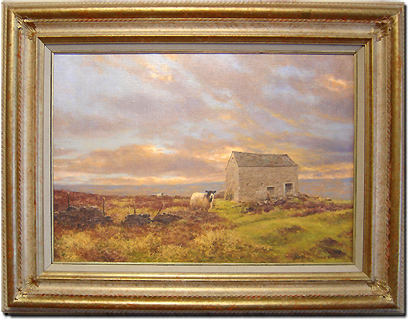 British Landscape Artist
Original oil paintings
(b.1928-2016) Nottinghamshire, England
A lifelong resident of Nottinghamshire, Frank spent his early life as a mining surveyor and planning engineer. From an early age his artistic flair was obvious and developed into a love with drawing and later, oil painting. His drawing and keen eye enable him to produce the fine detail so often found in his work. A change in his career found him the owner of an art gallery and framing business and allowed him to focus on his developing brush techniques.
In 1988 Frank left the gallery to paint full-time and went on to receive much acclaim, with many of his paintings being held in private collections around the world. Highlighting the beauty of the rivers and dales of nearby Derbyshire and Yorkshire, his interest in horses is also acclaimed and often form a focal point for his paintings. His fascination with water and his ability to capture its ever-changing moods, together with his unique talent for painting light, ensured a constant demand for his work throughout his career. A number of his works have also been reproduced both as open and limited edition prints by many of the leading fine art publishers.
No artworks from Frank Wright are currently available, please contact the gallery for future availability
A Selection of Sold Art Works
Please note that all Frank Wright art listed in this section has previously been displayed for sale and is not currently available.
If you have purchased a listed artwork and would prefer the listing to be permanently removed, please contact us by email or telephone.
Frank Wright | British Landscape Artist | All Art | Original oil paintings
© York Fine Arts 2018. All art work copyrighted to the original artist.
York Fine Arts, 83 Low Petergate, York, North Yorkshire, YO1 7HY, UK | Tel: 01904 634221