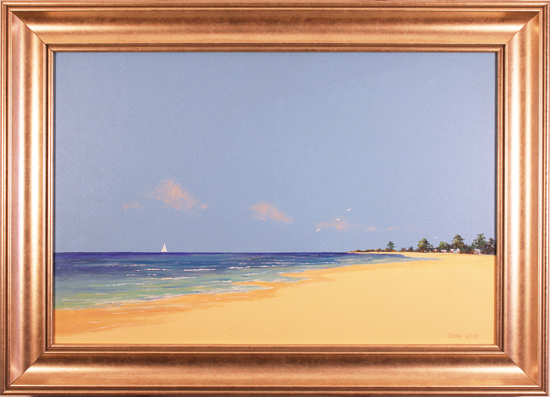 British Artist
Original oil paintings
(b..) Barnsley, UK
John was born and raised in the South Yorkshire town of Barnsley. Yorkshire landscapes with particular attention to reflections and the effect and variance in light have become his signature subject matter.
A self-taught artist, John Wood has been painting a drawing from a young age: "I can't remember a time when I did not have a sketch book on the go. My mother kept my brother and I well supplied with art materials to encourage our talent."
John was first introduced to the wonderful landscapes of the Yorkshire Dales through regular family holidays to Threshfield in Wharfedale. He first exhibited and sold his art work in the family pub in Darton.
John studied biochemistry at Sheffield University and worked for a number of years as a medical laboratory technician. In 1986 he decided to focus more on his true passion, becoming a full-time professional artist and opening a gallery with his brother (and fellow artist) Kevin in Barnsley.
John works in watercolour and oils; his originals and limited editions are sold through a number of galleries in Yorkshire with collectors spread globally, all in search of his representation of the beautiful Yorkshire countryside. "I like to think of it as exporting the beauty of Yorkshire to the world!"
YORK FINE ARTS

is an established art gallery for over 44 years with an international reputation for sourcing high quality traditional and contemporary fine art.


John Wood | British Artist | All Art | Original oil paintings
© York Fine Arts 2018. All art work copyrighted to the original artist.
York Fine Arts, 83 Low Petergate, York, North Yorkshire, YO1 7HY, UK | Tel: 01904 634221