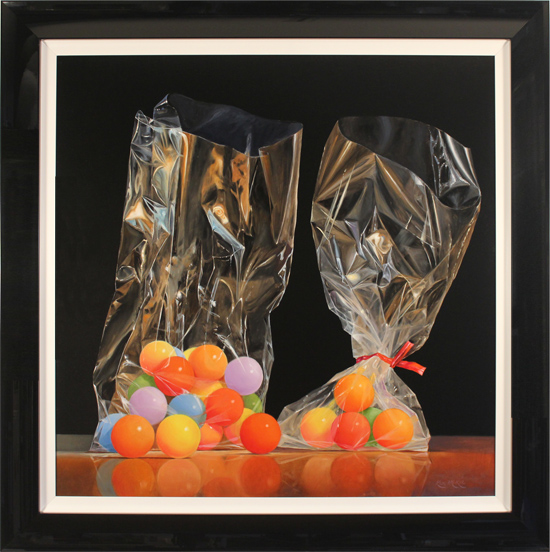 British Still Life Artist
Original oil paintings
(b.1941-2015) Northumberland, UK
Still life artist Ken McKie is renowned for his ability to effortlessly reveal the beauty of simple everyday objects. With a background in illustration, it is no small wonder that McKie is capable of animating his still life paintings with such ease and competency.
Originally from Hexham, Northumberland, Ken McKie worked in London as an illustrator for many years before finally settling in South Yorkshire. McKie and his wife, children's writer Anne McKie, worked together for over 30 years writing and illustrating children's books. With over 300 books to their credit they are one of the most prolific writer/illustrator partnerships in the world.
Ken now concentrates on painting full time, bringing a lifetime of observation, understanding and skill to his work. His advanced technique translates commonplace subjects into extraordinary works of art full of bright highlights, rich shadows and an element of honesty that encourages the viewer to appreciate the elegance of day-to-day life.
Ken McKie's still life paintings are widely exhibited and collected across the country. In addition to his still life work he is well known as a canine and an equestrian painter, and has exhibited at London's Mall Gallery with the Society of Equestrian Artists. Be it his equestrian or still life pieces, McKie's paintings make strong statement pieces for any collection.
No artworks from Ken McKie are currently available, please contact the gallery for future availability
A Selection of Sold Art Works
Please note that all Ken McKie art listed in this section has previously been displayed for sale and is not currently available.
If you have purchased a listed artwork and would prefer the listing to be permanently removed, please contact us by email or telephone.
Ken McKie | British Still Life Artist | All Art | Original oil paintings
© York Fine Arts 2018. All art work copyrighted to the original artist.
York Fine Arts, 83 Low Petergate, York, North Yorkshire, YO1 7HY, UK | Tel: 01904 634221