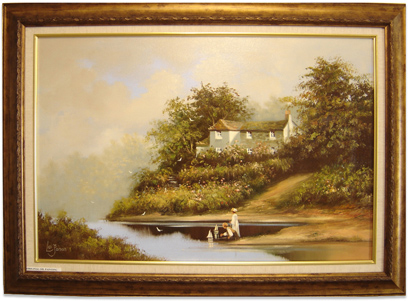 British Landscape Artist
Original oil paintings
(b.1945) Contact
Les Parson has been a popular British Artist with a loyal following for nearly forty years. Despite having a personal interest in art, Parson never received any formal training. Born in Lancashire in 1945, he worked in London as a Computer Engineer until 1974. He then moved to Cornwall working as an installer of Radar, Sonar and Ship to Shore radio on small fishing boats.
In a chance meeting with local gallery owners in 1978, Parson was encouraged to expand his artistic skills and transform his hobby into a career. He therefore put aside his pencil sketching and watercolour paintings in lieu of the more permanent medium of oil on canvas and become a flourishing full-time artist.
As a professional artist, Les Parson has become renowned for his nostalgic paintings of rural landscapes featuring children at play. His work is internationally recognised, with many of his paintings published as prints. The paintings of Les Parson remain highly-sought after by both domestic and international collectors.
No artworks from Les Parson are currently available, please contact the gallery for future availability
A Selection of Sold Art Works
Les Parson | British Landscape Artist | All Art | Original oil paintings
© York Fine Arts 2018. All art work copyrighted to the original artist.
York Fine Arts, 83 Low Petergate, York, North Yorkshire, YO1 7HY, UK | Tel: 01904 634221