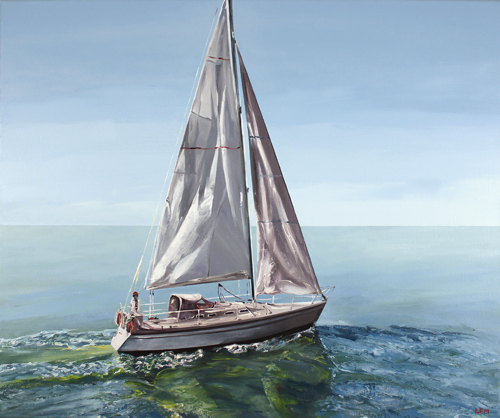 British Artist
Original oil paintings
(b.1961) North West England
Linda Monk is a professionally trained artist, qualifying with an Honours degree in Fine Art in 1982. After a break from the creative process she became a full-time artist in 2005. She is currently based near Frankfurt in Germany and exhibits regularly in Germany and Britain.
The main themes of Linda's work are beach huts, seascapes, buildings and landscapes, oil being her preferred medium. Linda's interest in seascapes and beach huts stems from her early years living on the coastal peninsula of Wirral and later the Dorset coastline. Linda works from sketches and photographs, incorporating these studies into the final canvas back in her studio. She prefers to have a clear idea of the painting in her mind in terms of colour and composition, which perhaps explains the calm and ordered nature of her work.
Linda is dedicated to her art, painting every day and spending long stretches of time on each painting to, in her words: "try for improvement and perfection in every picture"…"I want my paintings with my use of colour and subject matter to convey a feeling of uncomplicated joy". Linda's paintings are held in public and private collections across Europe and North America. Some of her work has also been published as open edition prints by Ecosse Fine Art.
No artworks from Linda Monk are currently available, please contact the gallery for future availability
A Selection of Sold Art Works
Please note that all Linda Monk art listed in this section has previously been displayed for sale and is not currently available.
If you have purchased a listed artwork and would prefer the listing to be permanently removed, please contact us by email or telephone.
Linda Monk | British Artist | All Art | Original oil paintings
© York Fine Arts 2018. All art work copyrighted to the original artist.
York Fine Arts, 83 Low Petergate, York, North Yorkshire, YO1 7HY, UK | Tel: 01904 634221