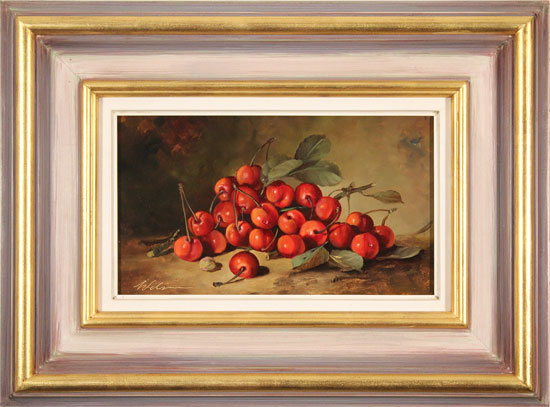 British Still Life Artist
Original oil paintings
(b.1945) London
Paul Wilson started painting at a young age, encouraged by his father Alexander Wilson, himself a well-known and highly respected artist. Paul became enthused and before long wanted to emulate his father's ability. During his teenage years and up to his father's death in 1969, Paul received a formal education in fine art and was soon to produce his own unique work.
His still life studies are drawn directly from his chosen subject matter and frequently depict bowls brimming with succulent summer fruits or baskets ablaze with summer flowers, painting in rich, bright colours, displaying all their incandescent glory.
His traditional still life style of painting has enjoyed a loyal and enthusiastic following due to his individual and unique approach to the form. Paul has had a number of successful exhibitions, and his paintings are to be found in selected galleries across the UK.
A Selection of Sold Art Works
Please note that all Paul Wilson art listed in this section has previously been displayed for sale and is not currently available.
If you have purchased a listed artwork and would prefer the listing to be permanently removed, please contact us by email or telephone.
YORK FINE ARTS

is an established art gallery for over 44 years with an international reputation for sourcing high quality traditional and contemporary fine art.


Paul Wilson | British Still Life Artist | All Art | Original oil paintings
© York Fine Arts 2018. All art work copyrighted to the original artist.
York Fine Arts, 83 Low Petergate, York, North Yorkshire, YO1 7HY, UK | Tel: 01904 634221