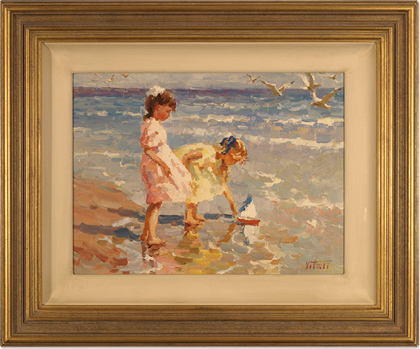 Ukrainian Artist
Original oil paintings
(b.1968) Kiev
Vitali Bondarenko was born in 1965. He graduated from the Kiev State Institute of Fine Arts in 1990, where he majored in oil painting and developed his talents for landscape and figurative work. He skillfully reveals the essence of a scene through his subtle use of colour.
Vitali graduated with the highest diploma grade and was automatically accepted into the Artist's Union, considered to be the highest elite group of artists in this rigidly structured soviet society. In 1996 Vitali completed his studies under Professor Mykola Storozhenko at the National Academy of Art and Architecture. In the same year he was invited as one of the most promising graduates in the Architectural-design Bureau by the Administration of the President of Ukraine to create a range of monumental art works for Ukrainian officials.

Vitali carried out a considerable amount of work embellishing the interior of the President of Ukraine's residence in Zalesse, the Ukrainian Embassy in Belarus and a famed concert hall in the Ukrainian House. Vitali participated in regional, national and international art shows, exhibitions, auctions in Kiev, Moscow, St Petersberg, Paris, London, Carmel, Baltimore and New York.
Vitali has since relocated to the US where he now lives and is able to take his art work to a new audience. His work can be found in private collections in the former USSR, the Far East, Europe and now the USA, where his work is in considerable demand.
No artworks from Vitali Bondarenko are currently available, please contact the gallery for future availability
A Selection of Sold Art Works
Please note that all Vitali Bondarenko art listed in this section has previously been displayed for sale and is not currently available.
If you have purchased a listed artwork and would prefer the listing to be permanently removed, please contact us by email or telephone.
Vitali Bondarenko | Ukrainian Artist | All Art | Original oil paintings
© York Fine Arts 2018. All art work copyrighted to the original artist.
York Fine Arts, 83 Low Petergate, York, North Yorkshire, YO1 7HY, UK | Tel: 01904 634221