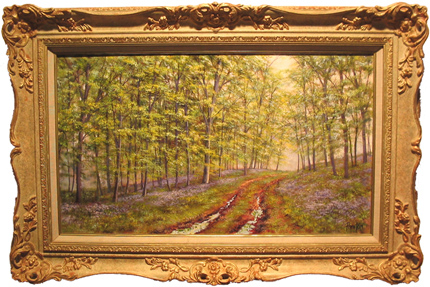 British Floral Artist
Original oil paintings
(b.,) England
Born and trained in the north of England, Deborah Poynton travelled and worked in Europe and Africa before settling in Dorset. This is where her artistic gift developed and much of her work was exhibited and sold.
Deborah has always enjoyed drawing and painting from a very young age and obtained several prizes for artwork as a teenager. She won a national competition organised through her school, and remembers her popularity on receiving a hamper full of chocolates!
Realising the inherent desire to be a creative artist, she enrolled for night school where, under the patient tuition of Sam Rabim, she learned how to criticise one's one work constructively.
The dynamics of pictorial composition and simplification of forms as taught by Robin Child, as well as the encouragement and advice from Derek Gardener RSMA, are remembered with gratitude.
What Deborah finds most stimulating to paint are those fleeting occasions when nature and the elements combine to form such an impact of beauty, either the wide sweep of a tranquil river, or an intimate close-up look at poppies among the corn stalks. The mystical enchantment of bluebell woods is also a favourite subject. She is also a member of the Society of Floral Painters.
No artworks from Deborah Poynton SFP are currently available, please contact the gallery for future availability
A Selection of Sold Art Works
Please note that all Deborah Poynton SFP art listed in this section has previously been displayed for sale and is not currently available.
If you have purchased a listed artwork and would prefer the listing to be permanently removed, please contact us by email or telephone.
Deborah Poynton SFP | British Floral Artist | All Art | Original oil paintings
© York Fine Arts 2018. All art work copyrighted to the original artist.
York Fine Arts, 83 Low Petergate, York, North Yorkshire, YO1 7HY, UK | Tel: 01904 634221