York Fine Arts is proud to announce that last month, British artist David Sawyer RBA was selected to accompany Their Royal Highnesses The Prince of Wales and The Duchess of Cornwall on their Spring Tour of the Caribbean as official tour artist. As a part of this esteemed role, in March 2019, David travelled to Barbados, Cuba and Cayman Islands to produce a body of work inspired by the sights and culture of the Caribbean.
Every year, Their Royal Highnesses travel abroad at the request of the Foreign and Commonwealth Office to further British diplomatic interests, raise the UK's profile in the country visited and promote British excellence. On other occasions, The Prince of Wales visits Commonwealth Realms on behalf of The Queen, who is head of state.
As an engaged Patron of the Arts and a keen amateur watercolourist himself, His Royal Highness The Prince of Wales likes to create a record of a tour that goes beyond the limitations of photography. When he travels abroad, The Prince of Wales chooses a tour artist to join the tour party at his request and his own expense.
Of the experience, David said:
"I was contacted by Clarence House about a month ago asking if I could join His Royal Highness The Prince of Wales as the tour artist on his Spring Tour of the Caribbean. I spent the first week painting in Barbados, then on to Havana and finally Grand Cayman.

My main brief was to be productive. I started around 30 oil paintings/sketches and also some drawings, which hopefully will be exhibited later this year. I was busy but also had a great time—especially in Havana, which was a fantastic city."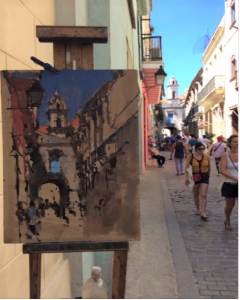 Work in progress of Havana Old Town
With his timeless style and acute observation, York Fine Arts is confident that David's resulting body of work from the Spring Tour will exquisitely capture the movement, life and landscape of the Caribbean in a uniquely singular way. To see David's available work and find out more about his impressive accomplishments and accolades as one of the UK's foremost landscape artists, please visit David's artist page.