With the last lingering days of summer, we look to the cooler months ahead and the paintings that have warmed us this month.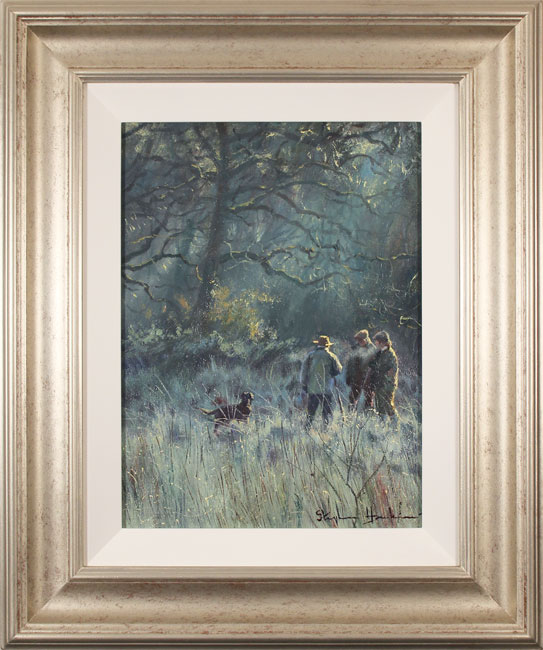 1. 'Brisk Morning' by Stephen Hawkins. Oil on canvas. 12" x 16". £1,185.
Chosen by: Philip Short, Director
"Stephen can capture a crisp winter morning like no other artist. When I look at this painting, I think of muddy boots by the door, hands warmed by an open fire, rosy cheeks and red noses. It is the details of the scene that really make this piece, from the foggy breath of the hunting party, to the alert stance of the black labrador, eager to head off into the woods. An understated treasure of a painting, from a very fine artist indeed."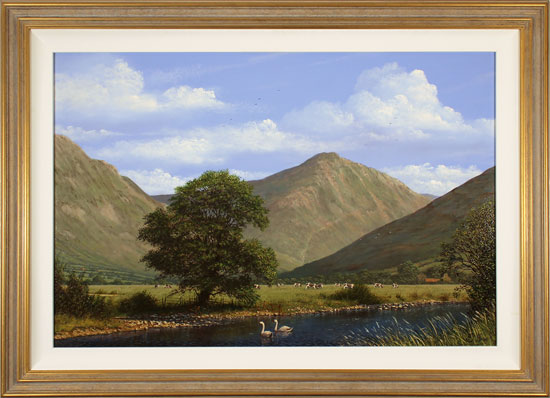 2. 'Great Gable, The Lake District' by Edward Hersey. Oil on canvas. 36" x 24". £POA.
Chosen by: Alan Short, Director
"Hersey is always going to be up there with the absolute best for me. I have worked with the artist for nearly twenty years, and still, I am amazed by the sheer quality and scale of what he produces. 'Great Gable, The Lake District' is a fantastic depiction of an area renowned for its outstanding beauty and is precisely why I am apt to tell all prospective clients – you can't go wrong with a Hersey."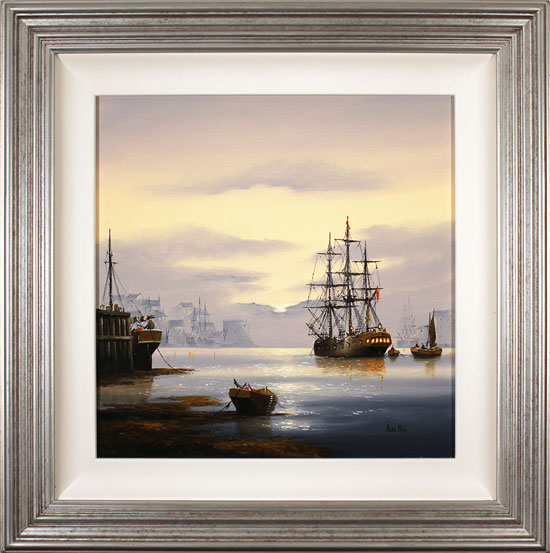 3. 'Sunrise Harbour' by Alex Hill. Oil on canvas. 16" x 16". £1,125
Chosen by: Deanna Dawkins, Gallery Manager
"There's always a bit of a narrative in Alex's paintings; in a single glance, your imagination runs wild. Where are they going? Where have they come from? What are they up to? Before you know it, you are quickly swept away into an exciting adventure on the high seas. But with this painting in particular, I love the softer colour palette he has chosen. While many of his paintings feature a spectrum of moody, mysterious blues, 'Sunrise Harbour' takes a more delicate turn, gently lulling us into a hazy daydream.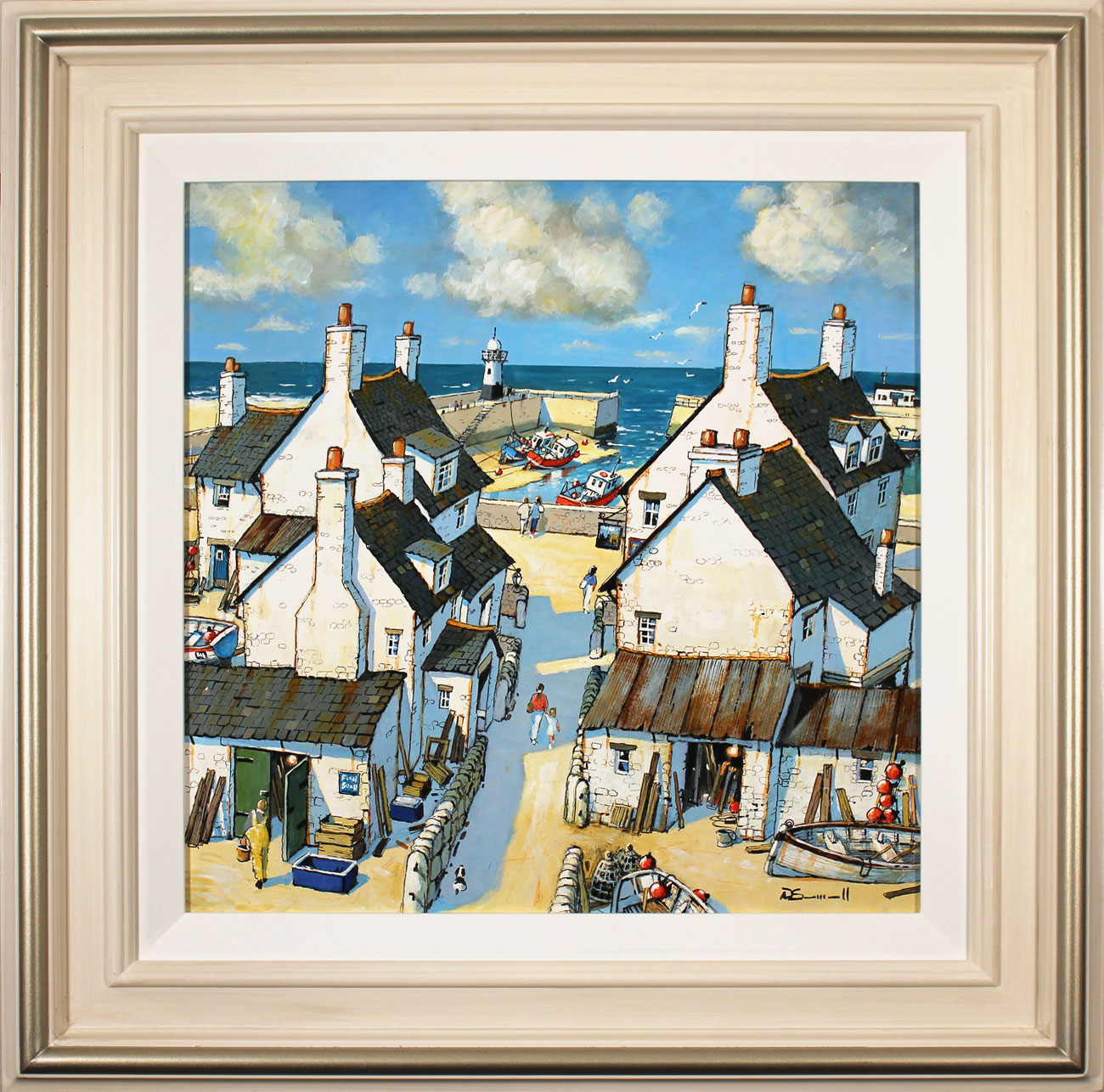 4. 'To The Light House' by Alan Smith. Oil on panel. 16" x 16". £985.
Chosen by: Kirsty Maclennan, Gallery Assistant.
"Aside from sharing a title with my favourite novel, Alan Smith's 'To The Light House' is a bright, charismatic delight of a painting. With an almost illustrative style, Alan brings the quirks and salt-worn charm of the small seaside town to life. A microcosm of work and play by the sea, there is endless detail to enjoy in this painting, and very much a revelling in the simple pleasure of being on the coast."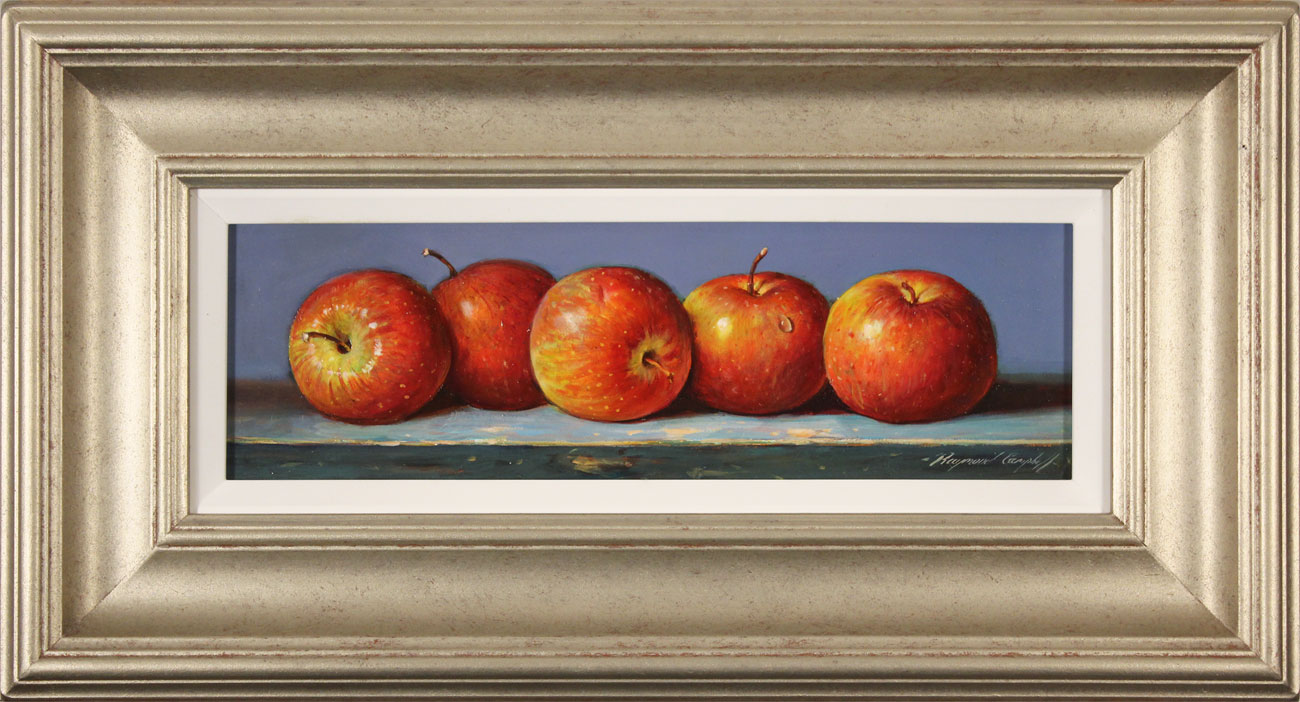 5. 'Apples' by Raymond Campbell. Oil on panel. 15" x 5". £1,100.
Chosen by: All
"A master of perfection, Raymond Campbell is certainly a firm favourite among us all at the gallery. One his latest paintings, 'Apples,' has caught our eye for its sheer joyful exuberance of colour and form. Simple yet extraordinary, Raymond entices us with five exquisite fruits, all in a row and ripe for the taking. We can think of no better remedy to the cold evenings ahead than to be greeted by the gleam of 'Apples' hanging on the wall."
To find out more of our favourites, visit our galleries and speak with a member of our friendly staff or strike up a conversation on our live chat.